On-Point AdvantageTM
Proud Developers and Agriculture Advocates
The On-Point Advantage System™ is like having one of our agricultural consultants in your pocket monitoring your ag business and alerting you when something needs to be addressed. We take great pride in offering this state-of-the-art technology for our clients. We provide them an invaluable agricultural tool at an amazing value. Get full control and access to your business with the On-Point Advantage System™ from Ag Professionals today!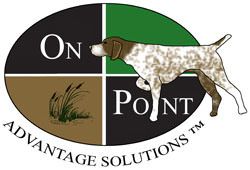 On-Point Advantage System™ For Agriculture Project Compliance
Monitoring Solution
On-Point Advantage Solutions™ is a cost-effective, satellite-driven monitoring system for environmental compliance. Environmental management and compliance is a must for agriculture projects. AGPROfessionals' innovative On-Point Advantage Solutions™ helps users efficiently manage their daily operations by automatically monitoring, storing, and reporting on-site environmental compliance information from anywhere in the world.
Encrypted & Secure
On-Point Advantage Solutions™ are secure, internet-based compliance systems for dairies, feedlots, hog, and poultry farms. There is no software to purchase or install. The system is accessed and administered by encrypted and password-protected users via the internet. This means you can access the system from virtually anywhere in the world, so long as there is an internet connection. On-Point Advantage Solutions™ can monitor, record, and transmit the items listed below.
Water Levels
Measures Water Levels in Ponds, Lagoons and Tanks
Rainfall
Monitor and Measure the Liquid Precipitation Over a Set Period of Time
Wind Speed & Direction
Research Air Quality & General Purpose Meteorological Applications
Flow
Measure and Record Flow From Pipes, Pumps and Spillways
Temperature
Record Air or Soil Temperatures
Voltage & Amperage
Monitor and Manage Equipment Maintenance
Full Control
Users can set alarms for minimum, maximum, and rate of change. On-Point Advantage Solutions™ is capable of alerting users via smartphone, tablet or email. It's like having an ag engineering specialist in your pocket.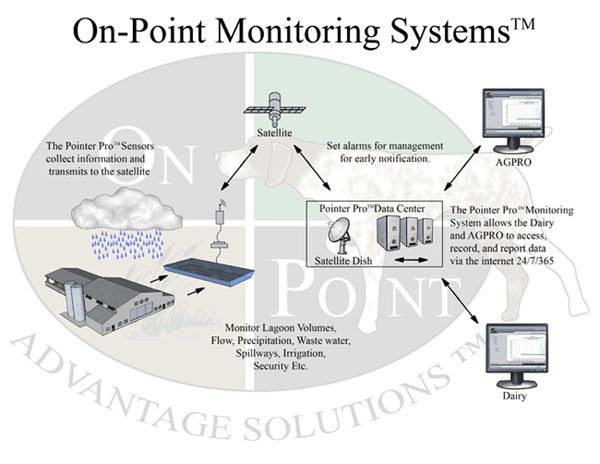 Contact our agricultural consultants at 970-535-9318, for more information on how this system can improve your environmental systems!
ON-POINT ADVANTAGE SYSTEM™
One of the most valuable agricultural consulting services we offer is our On-Point Advantage System™. Our ag consulting professionals offer years of experience and education, but they can't monitor every aspect of your operation 24/7 — but the On-Point Advantage System­­­™ can.
This system by AGPROfessionals is a complete, cost-effective system that gives you complete control over every aspect of your agricultural business. You get comprehensive monitoring services that give you all the information you need to effectively run your business in a way that's both smart and environmentally friendly. All of the information for your operation is safely encrypted and secured. You'll have secure access via the internet anywhere in the world. The On-Point Advantage System™ uses a combination of satellite and traditional monitoring technology to give you the critical information you need.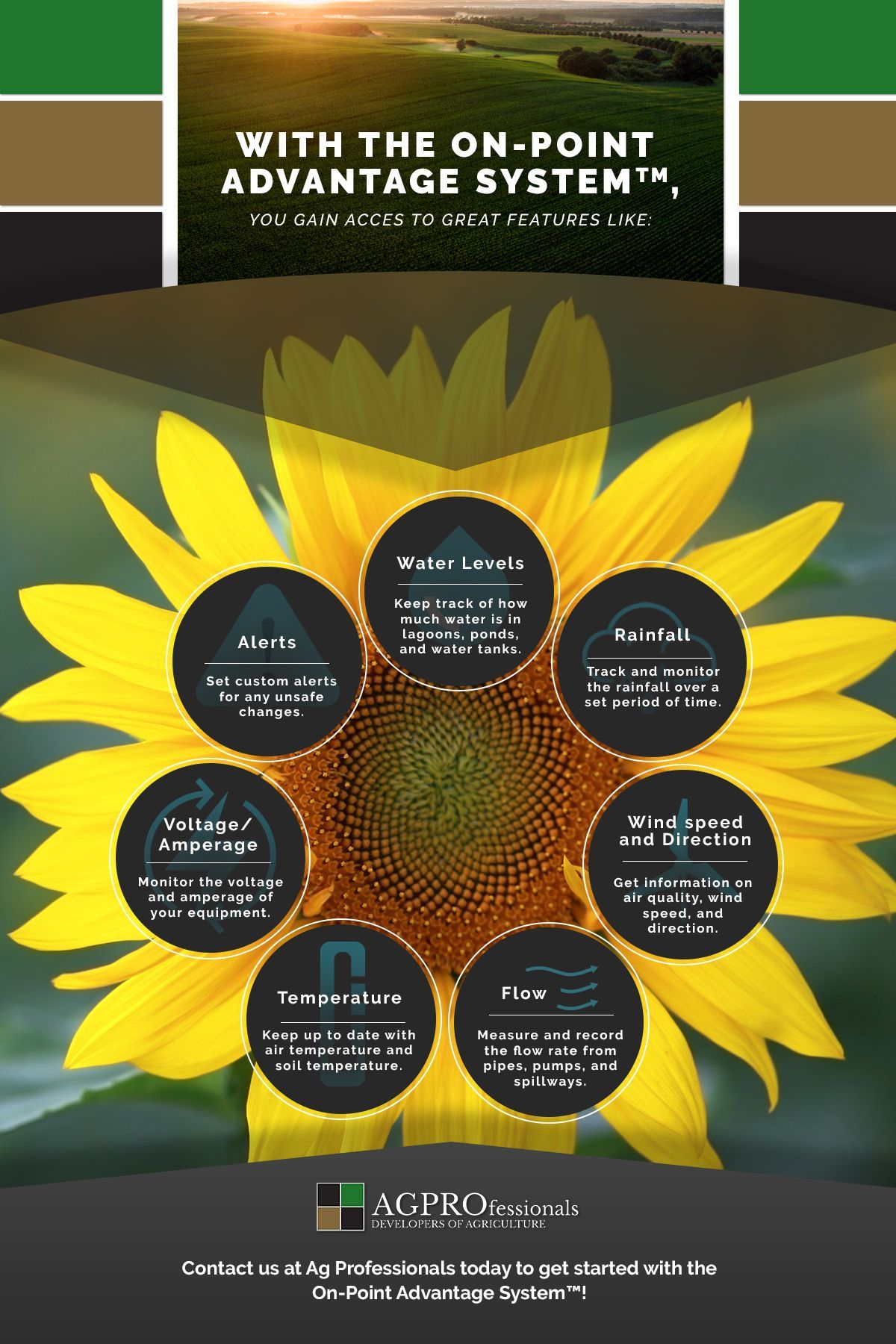 "We Are Proud To Offer Our Clients This State-Of-The-Art System. With Over 20 Years Of Experience In All Aspects Of Agricultural Development, We Continue To Develop Products And Offer Quality Service That Will Benefit Our Agricultural Clients." – Tom Haren, CEO
We've got you Covered!
We are professional problem-solvers achieving clients' goals and advocating their success.